Frank J. Garito
Scholarship
Foundation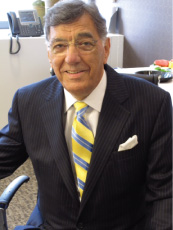 In memory of Frank J. Garito, dear friend and founding member of ECA, we have established a scholarship fund to benefit a child of an ECA member. Frank was recognized throughout the New York City construction community as an industry pioneer and dedicated leader. He was CEO and President of Asbestos Corporation of America and was also active in many construction industry trade and charitable organizations, receiving more than 40 awards for his contributions and activity in many charitable, benevolent, fraternal, civic and youth organizations over the years.
Frank was Chairman and a member of the Board of Directors of the Environmental Contractors Association of New York City and served on the Board of Governors of the Building Trades Employers' Association of New York City. He was also President of NDR Group, a non-profit housing corporation that built over 1,200 units of housing in New Rochelle for income-limited families.
Frank resided in Somers, NY and is survived by loving family members Stephen (Maria) of New Rochelle, New York, and Roellen Bishop of Irvington, New York, as well as grandchildren Stephanie, Leanna and Sam Garito, Weston and Jena Bishop and Isabella Rose Garito. Frank, Jr. of Aliso Viejo, California, joined his father in eternal rest in January of 2018.
View First Annual Frank J. Garito Scholarship Fund Golf Tournament Photos