The Charitable
Fund for
Disaster Relief
and Recovery
The Environmental Contractors Association's Charitable Fund for Disaster Relief and Recovery is a foundation established by environmental remediation experts to marshal the resources of local firms and mitigate the environmental impact of natural disasters and emergencies. Founded in 2013 shortly after Hurricane Sandy left thousands homeless and many more in need of cleanup and remediation services, the Foundation encourages the development of disaster preparedness plans and first response programs for all communities and businesses.
ECA Charity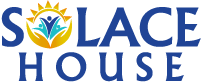 Solace House provides free, confidential, therapeutic counseling for anyone who is experiencing suicidal thoughts or suicidal distress, as well as those who engage in self-harm, or have been bereaved by suicide. All of the Solace House therapists are Licensed Clinical Social Workers and the staff are highly trained professionals, who are extremely welcoming and always respectful of your confidentiality.
Solace House is able to provide free professional counseling through the generosity of donors. There are many ways to donate and transform lives. For more information about Solace House, or to donate, click here.